Subscription Revenue Managers, ACT NOW:
Apex Decisions is offering a free audit of your subscription pricing models.
Contact us today to learn how pricing optimization can bring measurable benefits to your business… and provide a boost to your bottom line.
Apex Decisions, a "science-as-a-software" service that employs sophisticated, data-driven modeling, has a proven track record when it comes to kicking subscription revenues into high gear.
Now, thanks to a special limited-time offer, we invite you to find out if you're eligible for a free analysis and potentially a guarantee of a similar increase in renewal revenue.
Today, Apex Decisions can provide you with a free, detailed analysis of your company's data, which will include a comprehensive guide to your potential benefits (should you wish to take advantage of our pricing optimization services).
Sign up now to see if you qualify for our free audit
Spoiler: You may just become one of our satisfied clients, all of whom have enjoyed enhanced subscription revenue for their products.
Find out if your business meets our criteria for a FREE AUDIT. Discover what pricing optimization services have in store for you.
We combine our advanced data-science methodology with our team's expert experience in pricing to deliver highly effective benefits backed by quantifiable returns.
Apex Decisions has built its reputation on creating sophisticated, next-generation pricing subscription models that are guaranteed to increase client revenue.
Interested in exploring our past successes? Take a look at this recent case study:
How TheStreet.com Used Data Modeling to Boost Renewal Rates and Prices
Copyright© 2018, Apex Decisions Inc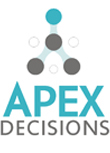 Here's a brief overview of our process:
We gather intel through a complete and detailed review of your business data.
Next, we build foundational data sets using behavioral information from your current subscribers.
Then we construct personalized pricing subscription models geared specifically toward benefit assurance, creating layered models where appropriate using existing and predictive behavioral data.
Once these models are built, we deliver specially tailored subscription pricing based on our models.
We then help you implement your new price subscription models through various marketing strategies.
Apex Decisions guarantees a renewal revenue increase of at least 8%, but the ultimate gains are often much greater. One of our major accounts recently increased their subscription revenue by an astonishing 20%! (More on that below…)
Discover whether or not you qualify for a free review of your business data by clicking here.
In a recent major pilot with TheStreet, a financial media company, Apex Decisions helped deliver marked improvements in both revenue and pricing. "Over the last two months for all [our] products, renewal rate is up two points… and our average price is up more than 20% using the pricing model," Jill Marchisotto, Executive Director of Marketing for TheStreet, observed.
The chart below gives a visual demonstration of just how much our pilot enhanced revenue renewal for TheStreet. Representing aggregated data from across five of the TheStreet's premium products, the red line follows the renewal rate for subscribers using pricing models provided by Apex Decisions, while the blue line indicates the control rate for subscribers using the existing standard model.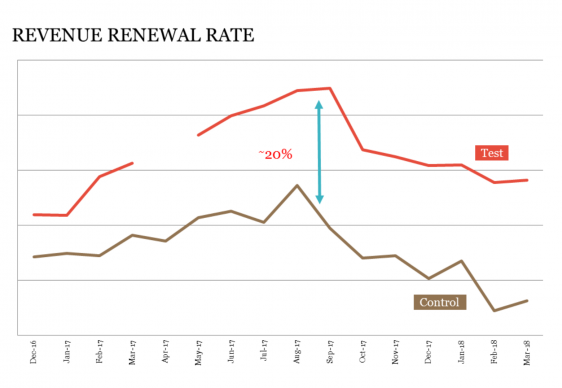 As you can clearly see, revenue renewal rates fared much better with Apex Decisions pricing models in play.
Want to find out how Apex Decisions can work similar magic for your business?
Contact us today to see if you're eligible for a free, no-obligation audit.